Serving His Country
CPT Daleske calls Hilton Head Island, South Carolina, home but also claims Summit, New Jersey, a small town in Union County. He attended High school at Valley Forge Military Academy in Wayne, PA and was a member of the regimental band on a music scholarship during High School. He then continued on to Jr College and was comissioned as a 2nd LT in the Army through Valley Forge Military Academy and College in Wayne PA in 2001, transferred to Clemson University in South Carolina in 2001-2004. He joined TKE, a social fraternity, and graduated with a BA in Political Science and a BA in History (he's talented and a genius!). He was initially stationed at Fort Bragg, NC with the 18th Fires BDE, and then transferred to the 18th Airborne Corps for the current deployment.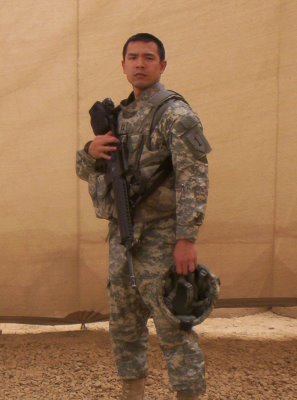 Christopher married his college sweetheart in July of 2007, and was deployed just seven short months later, in Feb 2008. He expects to come home in the Spring of 2009. His beautiful young wife is living with her parents until he comes home and he plans on moving them to Virginia and to work for the military in some capacity upon his redeployment.
Christopher loves to travel and is so fanatical about college football that he stays up until 6 AM watching the games in Iraq! He's very active, loves sports and the ocean, and after being around the dusty brown of Iraq for so long, misses the snow, rain and everything beautifully green.
Christopher is the unofficial Morale Officer to the men and women around him. He shares everything he gets from home to lighten the mood and morale for his friends and fellow soldiers over there. He even stores up any party related items he recieves from home for impromtu birthday celebrations for those around him.
CPT Daleske thanks God every single day for keeping his friends, family, countrymen and women safe and for all that they do. How about a HUGE thanks to Christopher for all that he does to keep all of us safe! Please pray for the safety and health of CPT Daleske, and all of our soldiers serving in the armed forces.